Welcome!
If you're looking for well-bred, healthy, structurally sound, gorgeous Moyen sized Poodles with outstanding temperaments, you're in the right place.  My moyen sized poodle puppies are from moms who are therapy dogs, support dogs, obedience class demo dogs, and always super sound in body and mind.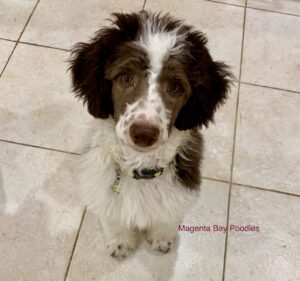 Dads are chosen based on equally good health, mental soundness, and very pleasing personality.   Your breeder has been a professional dog trainer for nearly 30 years, ensuring that pups are brought up with every advantage and great start toward housetraining, obedience training, and socialization.  I do all I can to ensure you have a confident pup! I'm available to you as you raise your pup and for his/her lifetime as well!
My very small breeding program guarantees that all my puppies have a huge amount of attention to get them started right. It also guarantees that you'll end up with a puppy whose temperament matches what you and your family need. All puppies are of course home-raised (NO kennels or kennel dogs here – our dogs are treasured family members) and are very used to all normal household noises and goings-on. Parents are health-tested to be sure worrying issues aren't passed on to pups. And only the best of the best temperament-wise is bred. And yes, I proudly raise pups using the Puppy Culture method.

I may be biased (okay – I am!), but I think moyen sized poodles and moyen sized poodle puppies are the perfect dogs. They're poodles (so they are versatile, super smart, comical, loving, intuitive, playful etc etc etc!) in a perfect sized package.  At 25-35 pounds, they are big enough not to be a small dog, yet small enough to be portable if you need to pick them up. They fit snug little places like your passenger seat (or your lap) too, if you'd like.
So, enjoy yourself as you have a look around the site. Be sure not to miss the Moms page so you can learn more about each of the girls (when you get there, click their name to see their very own page), read "The Process" page so you know how I work and why I do things the way I do, and do read How the Puppies are Raised. Then fill out the questionnaire and/or contact me so we can talk more!