Charm is now retired and will remain living happily here with me, not needing to do the mommy thing any more. 🙂   She is a Moyen-size parti-poodle (parti just means she is more than one color!).  She was born in June  2015, is just about 29 pounds, is 18.5 inches to the withers (that's a measurement from the floor to the top of the shoulders) and is an amazing dog. She accompanies me to each obedience class that I teach and is my demo dog – happily showing my students what each skill looks like when it's done. She's also a certified therapy dog and makes weekly visits to a long- and short-term care facility to help brighten the day of the residents. Her personality is really delightful: She's super social and loves everyone. Her idea of Heaven is that she's center of attention and everyone just wants to pet her.  (That's one of the reasons she's such a good therapy dog!) She's also exquisitely in tune with the humans around her. She knows when they need her to be calm and loving, or when bouncing around acting like a clown is a better idea.  She has a kind, happy face that makes you smile, particularly when her tail starts to whoosh.   She's gentle, adores kids, is as smart as a whip, and learns incredibly quickly. She's confident, affectionate, loyal, and always wants to be near. A truly awesome dog. I'm blessed to have her in my life.
Below are some photos of her – not only to show how lovely she is but also to show a bit of her personality.  Note that she has a natural (undocked) tail – as all of her pups do (for more info and why, see the Tail Docking & Dewclaws page). Also, at the bottom is the results of her genetic/health testing.
Hover/touch each photo to read caption, and click to see it full size.
---
At Work (Therapy Dog)
---
Baby pics!
---
Commercial work
Charm played a lady's dog in a video commercial at the beginning of the year. Click the link, choose "Mandy's Story", and fast forward to 2:05.  🙂   They edited it down to just a few seconds, but…!
Click here for the video commercial!
---
Health & Genetic Testing
A full panel was run, testing for the potential issues in the poodle breed. She is clear of all. You can see all of the genetic tests (including for what colors she carries) that were run. Click to view full size.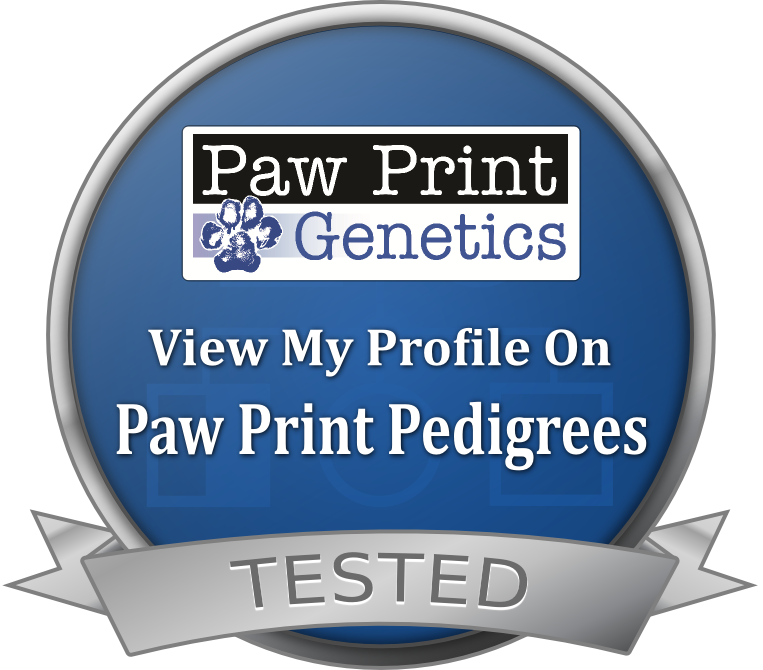 Hip x-ray results: Completely normal. X-rays read by a board certified veterinary radiologist: