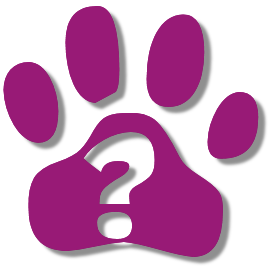 Just click on the question to expand the answer!
What makes you different from other breeders?

First and foremost, I'm a VERY small in-home breeder.  I don't have more than one litter at a time, I can (and do!) devote a tremendous amount of time to giving the pups a ton of attention and love. They are born and raised in my bedroom, and then moved to the main living area of the house where they are an integral part of the family. No kennels here or other rooms where they are kept apart from us.  Additionally, I've been a professional dog trainer for a long, long time and bring the puppies up in the way I feel is best for them behaviorally.  What I mean is, I raise them with an eye toward developing their confidence and giving them every possible advantage for when they go home with you.  Even as far as getting them used to the noises of thunder and fireworks so you hopefully won't have a dog frightened of those noises.  Pups are raised using the Puppy Culture program, which helps to produce a wonderfully confident, socialized puppy.  My pups go home partially housebroken (families tell me they housebreak quite easily because of it), used to a crate, and with some obedience and manners already in place. I'm here for you for the lifetime of the dog - any questions, anything I can help with. Always.

Do you health check your breeding dogs?

You bet!  All sires and dams (dads and moms) are health checked before the decision to breed is made.  Check out the Health Checks & Guarantee page for more information.

Where are you located?

We're in southeastern NY,  near the NJ border. We are convenient to major highways as well as a multiple airports. I love when people are close enough to drive to visit once the pups are old enough to have visitors.  But if you are not, when it's time for your pup to head home, what most people do is fly or drive in the night before, stay in a hotel, then pick up their pup in the morning and drive or fly back with him on a direct flight (IN CABIN only).  It gives me a chance to meet you, you a chance to meet mom and/or dad, and most importantly, saves the pup the extreme stress of traveling with a nanny over a very, very long day.

Do you ship puppies?

I will not under any circumstances ship a pup cargo or allow a pup to be shipped cargo (meaning where he travels alone in the belly of the plane). I've seen FAR too many young puppies traumatized by the shipping experience.  I also no longer send pups in planes with flight nannies. It's almost always a VERY long, stressful day for them and it is not fair to put an 8-10 week old puppy through that amount of stress. I spend a LOT of time building my pups' confidence levels up and I see no reason to severely stress them with one very long, super-stressful day.

If you live far, you have a couple of choices.  You can fly in, stay overnight in a hotel, drive here to pick up your puppy in the morning, and drive to the airport to fly him back with you (in his crate, in the cabin with you, on your DIRECT flight home).  Or, you can make a car trip of it. Either option is far preferable to shipping because it's substantially easier on the puppy and gives you a chance to meet me (and mama and/or daddy dog!) in person and lets you see where and how your puppy has been raised. What most people do in this case is to fly or drive in the evening before, stay overnight in a hotel, then come here in the morning to pick up their pup and then fly/drive back home with him.

Do you dock tails and remove dewclaws?

No. I do not believe in docking poodles' tails for appearance only. They have AMAZING natural tails - wonderful long tails that are incredibly expressive. Docking is already disallowed in many countries - hopefully the US will soon follow suit.  I cannot - will not - subject my babies to having their tails amputated at 3 days old just because that's what's expected for a poodle.  Have a look at the Tail Docking & Dewclaws page for a ton of information about why I feel so strongly, as well as a video of Charm - who has a natural tail - showing it off.

Dewclaws, they've proven, are very much like thumbs for dogs and are indeed used. It's a digit amputation to remove them and here again, I find no good reason to put a puppy through that, and remove something they do indeed use, just because. So your puppy will have 2 extra nails to cut (dewclaws are only on the front feet!).  Again, please head to the Tail Docking & Dewclaws page for a lot more in-depth info.

Do you temperament test the puppies?

Having been a trainer for as long as I have, and with as much interaction as I have with my babies, I get to know the temperaments and personalities of each puppy pretty solidly as they grow. However, there is something to be said for someone who is a complete stranger to them having a look at them with fresh eyes!  So yes, I have a trainer that I respect a lot come in at about 7-7.5 weeks, and she meets each puppy individually in a room/area they have never ever been before. She does a modified Volhard temperament test, which helps me tremendously in final placement decisions. Her results don't make my decisions for me, but they do add another piece of valuable  information to my decision-making!

If I'm first on the Wait List, do I get to pick my puppy first?

Well, no. I don't work that way. I've been a dog trainer for a long time and know that the very best and happiest pairings are when the personality of the dog complements the family.  While it's human nature to want a specific look, color, and/or gender, it is NOT the best way to pick a puppy. After a lengthy interview getting to know you and your family and your needs and wants (and yes, your preferences in gender/color too of course!) and MUCH questioning and interaction during the weeks that the pups are growing, I will match the right puppy to you when the litter is 7-8 weeks old.  You can read more about how it all works on The Process page or contact me and we can chat!

Will my puppy be AKC-registered?

Your puppy will either be registered with the AKC, CKC, or UKC, depending on mom.  If mom is CKC-registered, the litter will be registered with the CKC. If she's AKC-registered, the litter will be registered with them. Ditto for UKC.  (Dads are also registered of course; generally with the AKC. Some, like Dakota, are tri-registered with AKC, UKC, and CKC.) Note that AKC registration is not an automatic indication of a quality dog (note that most, if not all, puppy mill dogs are AKC-registered so it does not automatically mean quality). Alternatives to AKC are happily becoming more common and there is almost nothing that you can't do with a CKC or UKC dog that you can with an AKC dog!

How much do your puppies cost?

It depends on the litter. (But all pups within the same litter are the same price. I do not price differently based on color or gender!) The best general answer I can give here is a range. Generally, my pups range from $3200 to $3600 for an 8-9 week old puppy.

Why are puppies so expensive?

Much care, time, and yes, money, has gone into extensively health testing the parents, fees to the sire's owner, large vet fees for inseminating the dam if the sire is far away, vet care and additional food for the mom during pregnancy and nursing, vet care for the first 8-10 weeks of the pup's lives, food for the pups from weaning onward, MUCH time in raising the entire litter for 8-10 weeks, beginning training, and a whole lot else. Most breeders will tell you that a good breeder, doing it right, doesn't make a huge amount of money on a litter; if we're doing what's right for the mom and babies, it's not a big money-maker.

What do I need to have for my new puppy?

Check out the Supply List!  It is an exhaustive list, with links, to nearly everything you will need!  🙂

I want a puppy for Christmas/Easter/etc – can you help?

No, actually.  I will not place my puppies in a new home right near a major holiday. It's incredibly unfair to the puppy to come into a brand new home in the middle of holiday festivities and excitement. It's *stressful* for a new pup to change homes - every single thing he knew before is changing! - and they deserve a relatively peaceful transition.  Coming in as, say, the Christmas/Hanukkah present for the kids is insanely unfair to a puppy.  Those videos of kids opening a big box with a puppy inside are adorable where the KIDS are concerned. Not adorable at all for the very stressed, scared, and overwhelmed puppy in that situation.  There are creative ways to "give your kids a puppy for a holiday" without having the puppy there yet.
So no. I won't put my pups through that. Pups who are ready to go home around a major holiday will stay with me until that holiday is over, then they can go home when things are back to normal in the new house!

Do you breed minis?

No I sure don't!  I breed only moyen size poodles (that's about 20-35 lbs) and the occasional small standard (about 35-42 pounds).  A lot of people find me somehow through searches for miniature poodles, but no, I don't breed minis at all.