---
Hazel is a silver beige and white small standard parti-poodle (parti just means she is more than one color!).  She is currently just about 39 pounds and about 22 inches to the shoulder.
She is a really sweet girl who has an awesome temperament. She's super sound and loves all people and other dogs. She's a happy, very affectionate girl who loves nothing more than to cuddle up, get close, and be pet. She's completely easy and is always smiling.  🙂
Below are some photos of her – more always coming!  Also, at the bottom are any results of genetic/health testing.
Hover/touch each photo to read caption, and click to see it full size.
---
Genetic Testing   (click to see larger)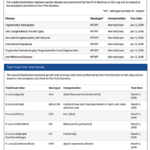 ---