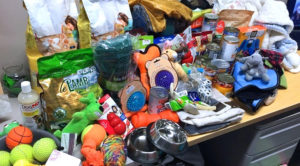 Below is a list of everything you should or must have in place in your home before you pick up your puppy. Most items have links to Amazon (or occasionally Chewy). See also the Resources & Links page.)
Books: Please get these books (at least one of them, preferably all 3) and read before you get the pup home.  It will prepare you for raising your new little sweetheart properly and without big issues. It's much easier to do it "right" from the beginning than it is to go back and try to correct things that have become habit.
Crate: I recommend either the Petmate Compass, size Small (10-20 lbs, 24.6x 6.9×15 inches) to start and the Intermediate (30-50 lbs, 32x21x23 inches) for later, or if you want one with a divider, then the Petmate Navigator, size Intermediate (30-50 lbs, 32.1x21x23 inches) or size Large (50-70 lbs, 36.1×23.3×26.7 inches).  I personally prefer using the smaller crate in the beginning and then getting a bigger one, but it's your option!
Crate Mat: I'm often asked "What should I put on the floor of the crate?" Remember, some pups chew anything that's in there! If you have one of those, I wouldn't put anything at all down until he outgrows the chewing stage. Otherwise, my VERY favorite crate mats are actually made by chewy.com (their brand is called Frisco). They are a little "stiff" so don't lend themselves to being bunched up and/or chewed. Yet they're soft and comfy and stay put. VERY affordable, too.  They are called Frisco Micro Terry Pet Bed & Crate Mat.  They only come in one color right now: taupe.
For the Petmate Compass crate, size Small (10-20 lbs), you want the 22-inch crate mat.
For the Petmate Compass/Navigator, size Medium (20-30 lbs), you want the 24-inch mat.
For the Petmate Compass/Navigator, size Intermediate (30-50 lbs), you want the 30-inch mat.
Food: You'll need a bag of the food the puppy was weaned onto.  I rotate between a few brands of high quality kibble; ask me which one your pup will be weaned onto. Currently, these are the brands in my rotation. (Listed in no particular order.)
Merrick Lil Plates Grain-free Small Breed. High quality kibble that's in nice small pieces to make it easy for the puppies.
Instinct Raw Boost (this is a kibble mixed with some freeze-fried raw bites). For pups or adults.
Instinct Be Natural. This is a high quality food WITH GRAIN for those who prefer to not feed grain-free.  Pups or adults.
Open Farm. Humane, sustainable family-farmed, locally grown ingredients. For pups or adults. Links below are for 12-pound bags.
Nature's Logic.  A wonderful, high-quality food that is lightly grain-inclusive (with grain), but the main grain they use (millet) is high quality and hypo-allergenic. Heavily meat-based food with no garbage.  For pups or adults..
Nulo Freestyle Limited Ingredient. Great for sensitive stomachs or dogs with allergies. Links are for 10-pound bags.  For pups or adults.
 Honest Kitchen Grain-free Whole Food Clusters. Amazingly good food. Minimally processed, human-grade, cold-pressed, dehydrated, all ingredients are chemical/preservative/by-product free, non-GMO, made in the USA, and all meat is antibiotic and hormone free. For pups or adults.
Instinct, grain-free, limited ingredient diet. I suggest getting the 11 pound bag. For adult dogs only (maintenance). Here are the links for the various varieties:
Wellness Core RawRev, grain-free (this is a kibble mixed with some freeze-dried raw bites). I suggest getting the 10-pound bag. For adult dogs only (maintenance). Here are the links for the varieties:
Canidae Pure Ancestral. This is a kibble that is raw-coated with freeze-dried meat. For adult dogs (maintenance).
Canidae Pure. Limited ingredient diets with simple ingredients – great for sensitive stomachs. Not for pups; adults only (maintenance).
Digestive Enzymes & Probiotics: These are the only supplements I recommend. Your puppy, since weaning, has been getting probiotics and digestive enzymes added to his/her food once a day. I strongly encourage you to continue. I use and recommend Nature's Farmacy Dogzymes Probiotic Max, which contains both. It's a powder that you add to his food once a day.  Note that link is for a 1-pound tub that will last you for a long time.
Firm-Up Pumpkin: Pumpkin is amazingly good stuff to help with both diarrhea and constipation.  It's a digestive regulator so it helps with both. If your pup has loose stool, you can get a can of organic pumpkin (JUST pumpkin – not the pie filling!) from the market and give a teaspoon of it, or, far better, you can rehydrate a bit of Firm-up and give that.  Firm-up is dehydrated pumpkin with a bit of apple. You only rehydrate as much as you need, so no waste. Just add water and give to your pup. 🙂
Food dishes: Stainless steel is definitely the best. Avoid plastic and ceramic/glass. I like the non-slip, no-tip ones with removable rubber bottom so they can go through the dishwasher.  The shape of these are great for when your poodle's ears are longer, too – they won't be in the food or water.  I suggest 10 oz bowls (size "small" if you click the following link) for pups and size medium for adults.  Platinum Pets makes a great bowl that cleans well and has great colors to choose from as well.
Collar: You'll need a small (8-12″), flat adjustable collar for your young pup.  (Do NOT put a "choke" chain on a puppy!!!)  People always come to pick up their puppy with a too-big collar. Please stick with 8-12″.  Look for a 1/2″ wide collar.  Because the collar will be taken on and off every time you put the put in the crate, definitely get adjustable.
I like the soft ones such as those made by Red Dingo. Below are some links to various colors of Red Dingo collars.
Leash: You'll need a 6′ leash. I would go with 5/8″ width. Until the pup is no longer chewing, I'd stick with Nylon. Don't get chain, don't get the round "rope" ones, and don't yet get an expensive leather one (later yes – not while he's chewing). Here is an example of a good 6′ Nylon leash made by Hamilton in a bunch of color choices.
Harness:  I don't generally recommend a harness on this size dog for everyday walking.  However, you should have one on your dog along with a seat belt leash (see below) for restraint in the car. It is VERY unsafe for them to ride free in the car (they become flying projectiles in a crash). Never attach a seat belt harness to your dog's neck collar!  I love the "Puppia soft vest harness" best for this purpose.  Medium is what you usually want for a puppy at take-home age (ask me to check). Here they are in various colors.
Seat belt leash: To be used with a harness ONLY – never on your dog's collar. They are adjustable and snap right into your car's seat belt buckle. I love the ones by Blueberry Pet – many different colors and well made!
Treats:  These are not snacks like biscuits – rather these are to be used as training treats. Try to be careful with treats and be sure they don't have a bunch of garbage in them. They really don't need salt, cane molasses, a bunch of preservatives, etc.  Here are the ones I like best and generally have in the training studio.
Merrick Power Bites. These are small, moist treats that dogs usually love. I use them in the training studio – they are fantastic as training treats.
Zuke's Mini Naturals. Another small, moist treat that dogs tend to love. Another staple in my training studio!
Wellness Core Pure Rewards. Also moist, these are flat and square shaped and can be ripped into small strips.
Tricky Trainers, Chewy. These come either crunchy or chewy. With training treats, you are always better off with moist (chewy).
Merrick Lamb Lung. These are high value treats – use when you really need your dog's attention or when you want to give a big reward. They are HARD to break – but they need to broken up smaller than they come. Well worth it.
Odor & Stain Remover: You MUST have this to properly clean housebreaking accidents. This is, by far, the best:  Nature's Miracle Stain & Odor Remover. When I raise a puppy, I buy the 16 oz bottle and a gallon for refills.
Chew Deterrent: Very best, in my opinion, is Grannick's Bitter Apple. You want the pump top.
Toys: All puppies – and adults! – need a wide variety of toys of different types.
Feeling secure: A lot of my families get one of these comforting Snuggle Puppy stuffed dogs with a heartbeat for their new pups. I would keep your eye on it often – make sure they are not chewing it.  They also come with a thing inside (gel pack) to make the stuffy warm. I would absolutely not use that. Six colors to choose from:
Chewies: Puppies must have things to chew on. Not only is it stress relief, but it also helps them get baby teeth out and adult teeth in. Below are links to the chewies I recommend your dog be able to choose from.
Brush: Your poodle pup needs to be brushed in-between grooming appointments. The best brush to use for a pup is a pin brush. Here's one of my favorites made by Conair.
Shampoo: Since your pup will be getting professionally groomed every 4-6 weeks (depending on the look you choose to keep him in and how often you brush), you ought not have to give a bath yourself very often.  But it does happen, so definitely worth having a good shampoo on hand. Here are my favorites.
Nail Care: Your pup will be well used having his nails ground. When they're young, it's done 3 times a week so they don't scratch mom up while nursing.  I use a Dremel. If you choose to continue that, here is your best choice: Dremel 7300 Pet Grooming Kit. If you prefer to clip nails with clippers,  the easiest ones to use are those held like scissors, like these.  Always have something on hand to stop bleeding if you cut too close to the quick – like Kwik-Stop.