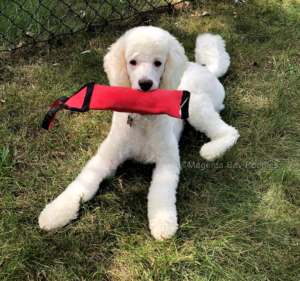 Dakota is available at stud for approved bitches from approved programs! He stands at stud only for natural cover at this time (we are located in southeastern NY state). He has good OFA prelims for hips and elbows and has been genetically tested clear for everything, except is a carrier for PRA. Not an issue when bred to a non-carrier. Please see his own page (at the bottom with all health info) for info about breeding carriers!
Requirements are:
Proof of negative brucellosis test no more than 1 month before the breeding is to take place
Bitch must be flea and parasite free with proof of flea prevention and negative fecal
Bitch must be genetically tested with normal PRA results (Dakota is a carrier and will NOT be bred to another carrier). Copy of genetic testing results is required.
You must be willing to travel here for the breeding and take your girl home after the tie and return 2 days later for same.
Quick summary of the contract is:
Stud fee entitles you to 2 breedings.  It is up to the bitch's owner to time those breedings properly.
If no pregnancy is achieved, you will be entitled to two more breedings in your girl's next cycle for no cost.
I do not guarantee a certain number of puppies or that your female will carry them to term. Once a pregnancy is achieved and confirmed, the stud has done his job and the contract is fulfilled.
Stud fee is payable before the first breeding.
To read full information about Dakota and see photos, visit his own page by clicking here.
Below are some of the pups Dakota has produced.   🙂   He tends to pass on his non-stop waggy tail and his really stable, human-loving temperament.